Monatlich Make Up nach Hause bekommen – klingt schon nach einem Mädchentraum, oder? Bestimmt kennen die meisten von euch schon die schöne pinke Box – Denn die Glossybox macht es möglich!
Ob sich ein Kauf lohnt und welche Vorteile man mit der Glossybox genießen kann, erfahrt ihr heute!
Getting Make Up monthly to your home – sounds like a girl dream, am I right? I'm pretty sure a lot of you already know the pretty pink box – because the Glossybox makes it possible!
Whether a purchase is worthwhile and which advantages you've got with the Glossybox, you get to know today!
//
15€ pro Monat für Make Up mögen für den einen oder anderen eine Menge Geld sein, für andere nur ein kleiner Betrag. Aber wie schön ist es bitte, wenn einen jeden Monat eine so schöne Box mit auf einen abgestimmten Produkten erwartet?! Jep, abgestimmte Produkte. Meldet man sich bei der Glossybox an, füllt man sein Beauty-Profil aus, denn "Jeder ist anders, individuell – einfach einzigartig!"
15€ pro Monat also – da hofft man natürlich auf Produkte die einen überzeugen. Lohnt sich also ein Abo oder ein Kauf einer Glossybox? Jetzt habe ich extra mal für euch den Gesamtpreis meiner Glossybox ausgerechnet:
Benefit Bronzer
Original 30,50€ pro 30  ml
Box: 5ml entsprechen 5,08€
Unani Gesichtsmaske
Original 15,99€ pro 100 ml
Box: 100 ml entsprechen 15,99€
Emité Make Up Pinsel
Original 30€ pro Pinsel
Box: Pinsel entspricht 30€
Nailsinc London
Original 17,55€ pro 10 ml
Box: Nagellack entspricht 17,55€
Lip Glide
Original 11€ pro Stift
Box: Lippenstift entspricht 11€
Resultat: Der Inhalt der Box hat einen Gesamtwert von 79,62€! Zahlt man also 15€ pro Box sind das immer noch 64,62€ Gewinn. Das macht mich gerade sprachlos!
Die Preise variieren logischerweise je nach Box und den beinhalteten Produkten. Deshalb habe ich mir nochmal die Glossybox der Glossycon (eine Beauty-Convention organisiert von Glossybox) geschnappt und die Preise recherchiert. Hier der zweite Vergleich:
Sante Duschgel Naturkosmetik (gefunden via Douglas)
Original 2,50€ pro 100 ml, Tube enthält 200 ml
Box: 200 ml (+ 25 ml gratis) entsprechen 5€
Misslyn Maxim Volume Mascara
Nicht gefunden, aber etwa 5€
Catherine Nagellack (236) (gefunden via Catherine-shop)
Original 12,95€ pro Nagellack (11 ml)
Box: 1 Nagellack 11 ml entspricht 12,95€
Babor Lip Gloss Stick (07) (gefunden via Moss Kosmetik)
Original Lip Gloss Stick kostet 14,28€
Box: 1 Lippenstift entspricht 14,28€
Babor Blush Stick (01) (gefunden via Moss-Kosmetik)
Original Blush Stick kostet 13,44€
Box: 1 Blush Stick entspricht 13,44€
Resultat: Der Inhalt der Box hat einen Gesamtwert von 45,76€! Also doch ein deutlicher Unterschied. Trotzdem hat sie einen ganz schön hohen Wert. Mit dem Kauf der Glossybox erspart man sich also einen hohen Betrag – der Kauf lohnt sich also definitv.
15€ per month for make up are for the one a lot of money, for another one just a little amount. But please, how nice is it to receive such a pretty box monthly with fitting products for yourself?! Yes, fitting products. If you sign in to Glossybox you have to fill in your beauty-profile, because everyone is different, individual – simply unique!
So 15€ per month – of course you hope to get products which convince you. So is a subscription or a purchase of a Glossybox worth it? Now I've calculated extra for you the total price of my Glossybox:
Benefit Bronzer
Original 30,50€ per 30  ml


Box: 5ml costs 5,08€

Unani face mask
Original 15,99€ per 100 ml


Box: 100 ml costs 15,99€

Emité Make Up Brush


Original 30€ per brush




Box: Pinsel costs 30€
Nailsinc London


Original 17,55€ per 10 ml




Box: Nagellack costs 17,55€

Lip Glide
Original 11€ per lipstick


Box: Lipstick costs 11€
Result: The content of the box got a total price of 79,62€! So if you pay 15€ per box there are still 64,62€ win. That makes me honestly right now speechless!
Logically the prices vary per box and the containing products. That's why I take the Glossybox of the Glossycon (a beauty convention organised by Glossybox) and researched the prices. Here's the second comparison:
Sante Shower Gel Natural Cosmetics (found via Douglas)
Original 2,50€ per 100 ml, Tube contains 200 ml


Box: 200 ml (+ 25 ml for free) costs 5€

Misslyn Maxim Volume Mascara


Not found, but about 5€

Catherine Nail Polish (236) (found via Catherine-shop)


Original 12,95€ per nail polish (11 ml)




Box: 1 nail polish 11 ml costs 12,95€

Babor Lip Gloss Stick (07) (found via Moss Kosmetik)
Original Lip Gloss Stick costs 14,28€
Box: 1 Lipstick costs 14,28€
Babor Blush Stick (01) (found via Moss-Kosmetik)
Original Blush Stick costs 13,44€


Box: 1 Blush Stick costs 13,44€
Result: The content of the box got a total price of 45,76€! So there's a clear diffencere. Still a pretty high value. With the purchase of the Glossybox you save a high amount of money – so the purchase is totally worth it.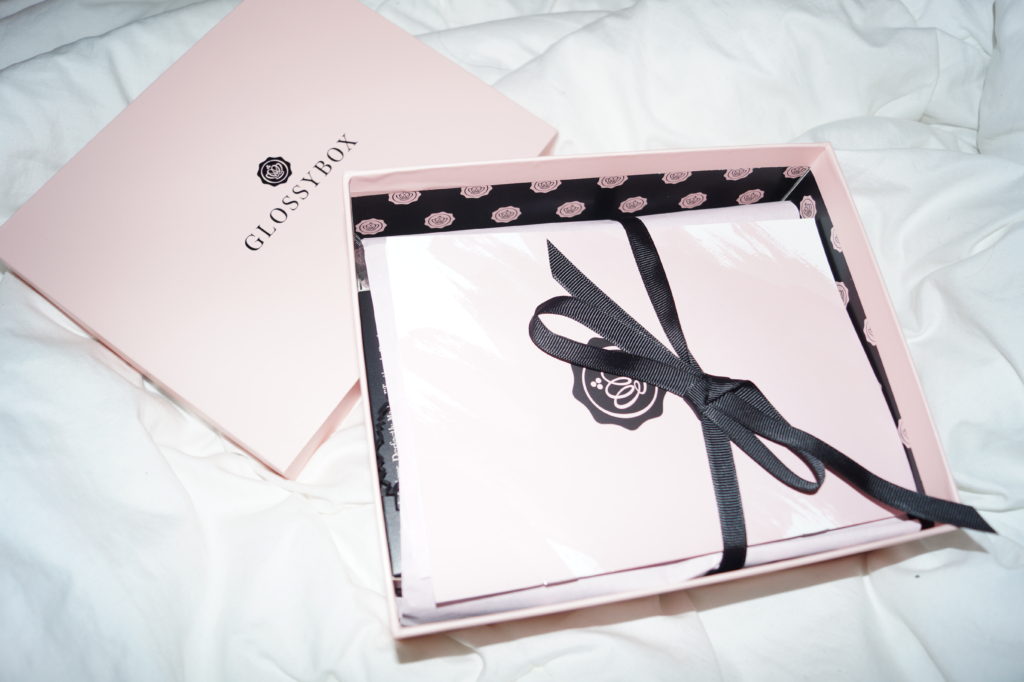 //
Außerdem habe ich nochmal nach anderen Fakten recherchiert, die euch bestimmt interessieren:
Die Produkte die ihr erhaltet stammen von über 1.100 Partnermarken von Glossybox
Sie sind meistens in Originalgröße oder als Probe in der Box zu finden
Es stehen verschiedene Abo-Angebote zur Verfügung: Entscheide dich zwischen einem flexiblen, monatlich kündbaren oder einem 3-, 6- oder 12-Monats-Abo (Umso länger das Abo umso günstiger wird es – ab 12,50€)
Geliefert wird kostenfrei per DHL
Jeden Monat gibt es ein neues Motto (zum Beispiel Weihnachten im Dezember)
Es gibt die Glossybox sogar für Männer (Glossybox Men) und für jüngere Make Up-Liebhaber (Glossybox Young Beauty)
Es gibt immer 5 Produkte pro Box. Meist sind Cremes, Shampoos, Nagellack, Gesichtsmasken, Duschgels, Seifen oder dekorative Kosmetik wie Mascaras oder Puder enthalten.
Bei den Artikeln handelt es sich oft um Neuerscheinungen, die noch gar nicht auf dem Markt zu erhalten sind
Als Abonnent können nach Erhalt die Produkte auf der Glossybox Website bewertet werden, dadurch sammelt man sogenannte Glossydots – pro bewertetem Produkt erhält man als eingeloggter Kunde 20 Punkte. Bei 1000 gesammelten Punkten bekommt man als Dankeschön für das Feedback eine Gratisbox!
Es gibt immer aktuelle Glossybox-Gutscheine, die ihr auf diversen Gutschein-Websites erhaltet 🙂
Furthermore I researched for other facts which surely could interest you:
The producs you receive originate from over 1.100 partner brands von Glossybox
They are either in their original size or as a tryout in the box
There are different subscription-offers: Decide between a flexible, monthly terminable or a 3-, 6- or 12-months-subscription (gets cheaper the longer the subscription is – starting from 12,50€)
Delivery is for free by DHL
Monthly there's a new motto (for example christmas in december)
There's even a Glossybox for men (Glossybox Men) and for younger make up lovers (Glossybox Young Beauty)
There are always 5 produkts per box. Mostly you get cremes, shampoos, nail polish, face masks, shower gels, soaps or decorative cosmetics such as mascara or powder.
The articles are often new releases, which are not even on the market
As a subscriptioner you can score the products after receiving them on the Glossybox Website. Thereby you collect so-called Glossydots – per valuated product you get 20 points as a registered customer. When you collected 1000 points you get a box for free as a thank you for the feedback!
T

here are always actual Glossybox coupons which you can find on special coupons-websites 🙂
//
Wusstet ihr eigentlich, dass es zur Zeit ein Special bei der Glossybox gibt?! Diesen Monat gibt es nämlich eine Special Edition: Die New Icon Edition. Dafür haben die liebe Leonie Hanne, Anna Frost und Stefanie Giesinger ihre ganz eigene Box designt und befüllt! Was ich ziemlich cool finde, weil man damit 3 so starken Influencern eine neue Plattform bietet auf denen man seinen Followern etwas weiter empfehlen kann. Wer würde denn nicht gern seine eigene Box befüllen? Also ich schon! 😀 Daraus sind 3 absolut verschiedene, individuelle Boxen entstanden, mit 3 absolut unterschiedlichen Designs und Produkten.
Do you actually know that there is currently a special by the Glossybox?! This month there is a special edition: the New Icon Edition. Therefore the lovely Leonie Hanne, Anna Frost and Stefanie Giesinger designed and filled in their own box! What's pretty cool, because 3 such strong influencers get a platform where they can recommend their followers something. Who actually don't want to fill in his own box? So I want! 😀 Out of that 3 absolute different, individual boxes arose, with 3 absolutely varying designs and products.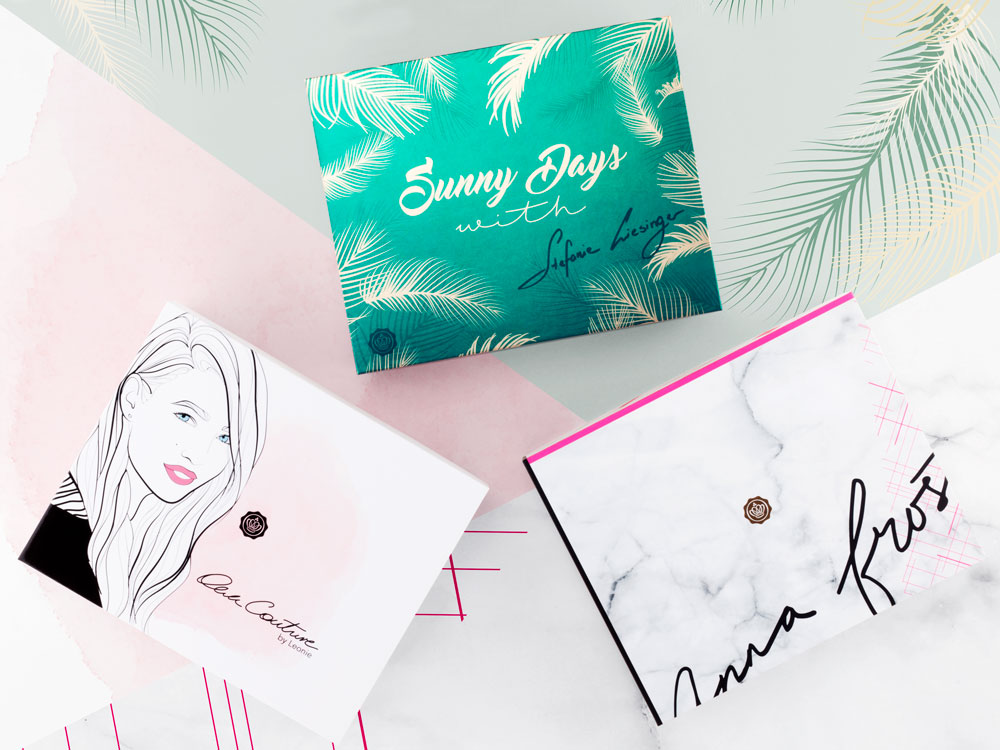 //
Die Glossybox ist also für jeden Make Up Liebhaber etwas. Mir gefällt vor allem die Überraschung die dahinter steckt, denn dadurch freut man sich nochmal umso mehr und es fühlt sich wie ein monatlicher Geburtstag an, haha 🙂
Insofern kann ich euch die Glossybox also weiterempfehlen. Wenn einem ein Produkt beispielsweise nicht gefällt, kann man es immer noch an seine Mama oder zum Geburtstag verschenken oder man verkauft es. Habt ihr schon Erfahrungen mit der Glossybox gemacht? Und wie findet ihr die Idee einer solchen Box? Mich würde eure Meinung sehr interessieren, also raus damit! 🙂
So the Glossybox is something for every make up lover. I especially like the surprise behind, because thereby you be even more happy and it feels like a monthly birthday, haha! 🙂
So far I can recommend the Glossybox. If you don't like a product for instance you can still give it to your mom or to someone's birthday or you sell it. Do you just collected experiences with the Glossybox? And what do you think of the idea of such a box? I would really appreciate your opinion, so out with it! 🙂