"You can't stop the waves, but you can learn to surf!" Lasst euch dieses Zitat mal kurz durch den Kopf gehen – und übertragt den Sinn vom surfen auf euer Leben. Das Leben ist nun mal kein Ponyhof, und Du wirst Dich immer neuen Herausforderungen stellen müssen. Aber Du kannst lernen damit umzugehen, und Dein Leben in die eigene Hand zu nehmen.
Ich hab mich schon immer dem Wasser hingezogen gefühlt, auch wenn ich nie am Wasser gelebt habe. Irgendwo finde ich es auch beängstigend, dass wir die Weiten des Ozeans praktisch gar nicht kennen, und gleichzeitig macht es genau das so interessant und mysteriös.
Wer mich aufmerksam auf Instagram verfolgt, weiß bereits, dass ich diesen Sommer surfen lernen möchte. Ob das dank der Quarantäne klappt, ist zwar noch ungewiss, aber meine Vorfreude ist so wahnsinnig groß, dass ich mich bereits jetzt schon richtig viel damit beschäftigt habe! Zu meinem Glück ist mein Freund Surflehrer in Dänemark – wusstet ihr eigentlich, dass man dort surfen kann? Für mich war das tatsächlich neu – aber umso besser, dann sind der Strand und die Wellen nicht so weit entfernt!  Nachdem ihr in meinen Instagram Stories fleißig dafür abgestimmt habt mehr über's surfen zu erfahren, habe ich mich an diesen Beitrag gemacht – und zeige euch später noch meine neue Surf-Kleidung!
Weshalb ich surfen lernen möchte, und weshalb es für jeden von uns interessant ist? Hier kommen 10 Gründe, warum surfen lehrreich ist!
10 Gründe weshalb surfen lehrreich ist
Du kriegst den Kopf frei und kannst der Realität entfliehen. Du konzentrierst dich nur auf Dich und das Surfen.
Surfen ist ein echt gutes Training für den Körper und damit die körperliche Fitness. Nicht nur dass Du Deinen Körper anspannen musst, Du musst auch lernen die Balance zu halten.
Du musst lernen ruhig zu sein – nur so kannst Du Fortschritte erlangen. Es ist wichtig sich in Geduld zu üben und die perfekte Welle abzuwarten.
Du musst Dich an deine Umgebung gewöhnen und diese beobachten. Somit nimmst deine Umgebung viel mehr und genauer wahr.
Du hast freie Konversationen die dich aus dem Alltag holen. Surfer bilden ähnlich wie beispielsweise Raucher eine unterstützende Community – nur dass man sich sportlich betätigt.
Du kannst Dich jeder Zeit steuern und entwickelst Mut, größere Wellen zu reiten. Somit kannst Du Dich immer weiter heraus fordern und immer besser werden.
Du siehst und entdeckst viele verschiedene Spots und neue Orte, wenn du ambitioniert surfst.
Du nimmst die Verbundenheit zur Natur viel deutlicher wahr. Du musst lernen eins mit der Welle zu sein und nicht gegen sie, sondern mit ihr zu sein. Sie ist der Grund weshalb Du dich hinfortbewegen kannst.
Du trainierst Deine mentale Fitness. Du lernst Dich auf Dich selbst zu konzentrieren, Du selbst und anpassbar zu sein und Dich auf dein Tun zu konzentieren. Du musst wach sein und kannst nicht mit den Gedanken wegschweifen und vor Dich hin träumen – sonst bleibst Du nicht lange auf dem Brett. Und: Du lernst schnell zu reagieren und Entscheidungen zu treffen!
Du kannst es sowohl allein als auch gemeinsam machen. Wenn Du für Dich sein magst, hast du die Möglichkeit die Weiten der Wellen zu nutzen, um dem Alltag zu entfliehen und Dich nur auf Dich und das was um Dich herum passiert zu fokussieren. Andererseits kannst Du genau so mit Freunden auf's Meer hinaus schwimmen und gemeinsame Erinnerungen sammeln.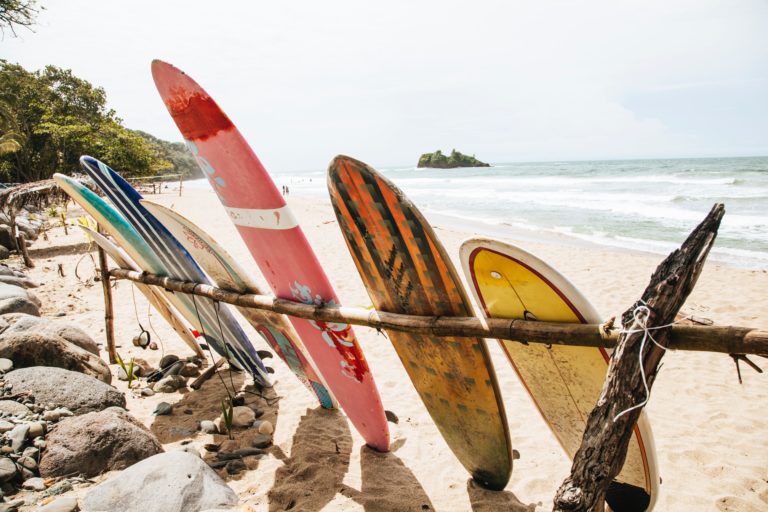 Ich hab mir erst vor ein paar Tagen neue Surf-Ausrüstung bestellt. Das Surfboard und einen Neoprenanzug (da es in Dänemark schnell kalt werden kann) bekomme ich zum Glück gestellt. Und auch wenn ich noch nie selbst auf dem Board auf dem Meer gestanden habe, träume ich schon jetzt davon mit meinem Freund in anderen Ländern surfen zu gehen!
Und jetzt – finally – zeige ich euch meine neuen Sachen! 🙂
Ich hab meine Sachen bei Protest gekauft, weil mein Freund selbst eine Jacke und eine Badehose von dort hat – neben den Surfsachen gibts da nämlich auch Bikinis, Tankinis, Bandeau Bikinis und Bügel Bikinis – also perfekt für den Sommer!
Wart ihr schon mal surfen oder hättet ihr Lust, es mal zu lernen? Ich kann's kaum abwarten – solang bleibe ich noch im Wohnzimmer und schreibe fleißig Blog Beiträge! 🙂

In freundlicher Kooperation mit Protest*