Leichte Sonnenstrahlen, ein frischer Wind und blühende Blumen all over Germany – der Frühling kommt zwar langsam, aber sicher!
Sunbeams, a fresh breeze and flowers in bloom all over Germany – spring comes slowly but surely!
//
Lange musstet ihr darauf warten, aber hier ist endlich wieder ein Fashion-Beitrag! Der Frühling – auch wenn man es kaum glauben mag – steht wieder vor der Tür und nachdem ich letztens so viel positives Feedback zu meinem Frühlings-OOTD auf Instagram bekommen habe, möchte ich euch heute einige Inspirationen und Tipps mit auf den Weg geben.
It's been a long time, but here's finally a fashion post! Spring comes – even it's hard to believe – and since I get so much positive feedback to my spring-ootd on Instagram I wanted to give you some inspiration and tipps to take along.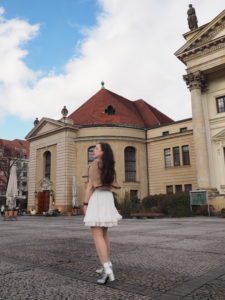 //
1. Haltet euch warm!
Ich bin ein Mensch der definitiv seltener friert als andere – ich behaupte immer, dass ich gut gefüttert bin (was natürlich Quatsch ist, jeder Mensch kann frieren). Deshalb solltet ihr stets auf eure Gesundheit achten und gerade bei leichten Temperaturen nicht auf eine Strumpfhose verzichten. Selbst eine durchsichtige Strumpfhose kann schon viel bewirken!
Achtet außerdem darauf, trotzdem eure Füße warm zu halten. Ich ziehe trotz Strumpfhose immer noch ein paar Socken an. In Innengebäuden mag es warm sein, zieht euch jedoch für draußen eine Jacke oder einen Mantel an, die euch warm halten. Alternativ könnt ihr eine Strickjacke oder einen Cardigan unter eure Jacke ziehen.
1. Keep warm!
I am someone who's definitely less freezing than others. Nonetheless you should always be careful of your health and especially when it's cold outside you shoud wear tights. Even nude tights help a lot!
Furthermore your should keep your feet warm. I always wear tights and socks and the same time. Inside it may be warm. However, when you're outside you should wear a jacket or a coat to keep you warm. Alternatively you can wear a cardigan underneath your jacket.
//
2. Frühlings-Outfit-Vibes
Ich persönlich bin ein großer Fan von Kleidern, da ich feminine, elegante Kleidung bevorzuge und mich durch die kaschierenden Schnitte wohler fühle. Mein Kleid auf den Bildern habe ich vor einiger Zeit bei XXXXXX für meinen Abiball gekauft. Wie sich heraus gestellt hat, eignet es sich ebenso hervorragend für den Sommer und ich bin der Zeit schon auf der Suche nach ähnlichen Kleidern für die kommenden Sommertage! Genauso eignen sich aber auch alle anderen Outfits auf die ihr Lust habt – nur von bauchfreien Shirts (dafür ist es doch zu frisch) und Hotpants (Kälte ist schlecht für die Knie) würde ich euch abraten.
2. Spring-Outfit-Vibes
I personally love dresses, as I prefer feminine outfits and I feel way more comfortable with the concealing cuts. I bought the dress from my photos long time ago for my prom. Turned out to be perfect for summer days and I'm already searching similar dresses for the upcoming season. Also other outfits work well, too – I just recommend against cropped tops (therefor it's still too cold) and Hotpants (cold is bad for your knees).
//
3. Accessoires
Schale (nicht Schals, ich hab gegooglet!) können oftmals Outfits ruinieren, ich weiß. Da es aber kein Winter mehr ist könnt ihr bei Wind und kaltem Wetter zu einem Tuch zurück greifen. Tücher sind simple, elegante Lösungen die euren Hals trotz Kälte schützen.
3. Accessoires
Scarfs can ruin your outfits, I know. As it's not winter anymore, you're able to take a cloth. Cloths are a simple, elegant solution to protect your neck.
//
Für mehr Inspiration habe ich euch noch ein paar Frühlingskleider bei Esprit herausgesucht – Mir gefallen die Muster und Schnitte besonders, weil sie sich sowohl für den Sommer, als auch den Frühling eignen und die Prints teilweise dem Blumenprint-Trend verwirklichen.
Welches Outfit wäre euer Favorit für den Frühling?
Ich freue mich schon auf euer Feedback! 🙂
For more inspiration I selected a few spring dresses for you – I absolutely love the prints and cuts as you can wear them in summer and in spring.
Which outfit is your fave for spring?
I look forward your feedback! 🙂
XOXO,
Louise