Na, was macht der Herbst bei euch? Ich vermisse den Sommer ja maßlos, aber vielleicht ist es auch mal ganz schön, wenn man nicht mehr täglich 3x duschen muss, weil einem der Schweiß ständig ins Gesicht tritt. Das heißt aber leider auch tschüss Sommerkleidchen, Sandalen und Tops! Dieses Jahr bin ich allerdings total in die Herbstmode verliebt – und stelle euch heute mein zweites Herbst-Outfit vor.
So, what does the autumn by you? I just miss the summer so much, but maybe it's good when we don't have a shower 3 times a day, because we can not stop sweating. Unfortunately this means bye summer dress, sandals and tops! However, this year I'm totally in love with the autumn fashion – and today I show you my second autumn look.
//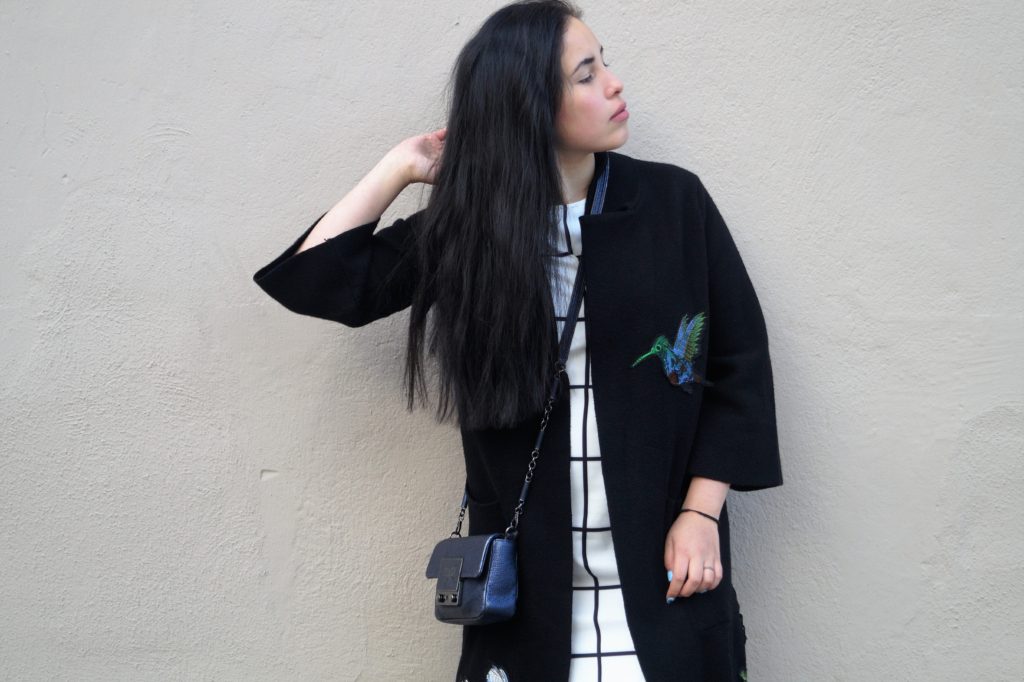 Mein erstes Outfit konnte euch hoffentlich bereits inspirieren. Dieses Mal soll allerdings mein derzeitiges Lieblingskleid die Hauptrolle spielen. Ja, Kleid! Denn ich kombiniere es mit meinem Must-Have-Mantel, der ihr bereits kennt. Der wärmt mich nämlich schon ausreichend und falls es doch mal frisch wird, zieh ich eine Strumpfhose und eine dünne wärmende Jacke drunter.
Das Muster ist zwar simpel, aber trotzdem auffällig. Außerdem sitzt der Schnitt locker, und es sieht sehr casual aus. Das ist das, was ich an dem Kleid liebe. Es fällt lässig, sieht aber trotzdem elegant aus. Love it!
Die Boots sind meine Schuh-Favorites diesen Herbst. Ich sehe sie als die einzig wahren Blogger-Boots an, und ich habe sie mir sofort gekauft. Die Cut-Outs sind ein echter Hingucker, sie passen zu beinahe jedem Outfit und ich bin gleich mal 3 cm größer (yey!).
My first outfit could hopefully inspire you. However, this time my current favorite dress comes in the foreground. Yes, dress! I combine it with my must-have-coat, you already know. It's warm enough and even when it gets a little bit colder I just wear tights and a thin warming jacket underneath.
The pattern is simple, but an eye-catcher. Furthermore it got a loose cut, and it looks really casual. That's what I love about the dress. It falls laid-back, but still looks chic. Love it!
The boots are my shoe-favorites this autumn. I see them as the one and only blogger-boots and bought them immediately. The cut-outs are such a cool eye-catcher, they match to nearly each outfit and I'm directly 3 cm bigger (yey!).
//
Wie gefällt euch der Look? Ich friere ja nicht so schnell wie andere, wie siehts mit euch aus? 🙂
How do you like the look? Actually I don't freeze as fast as other people, what about you? 🙂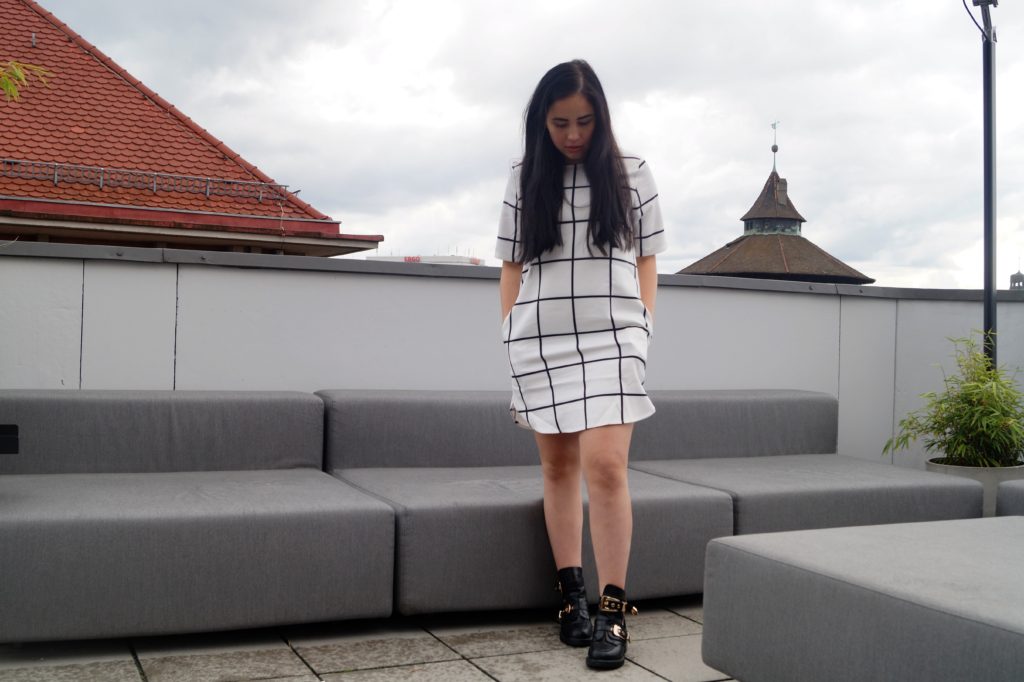 Outfit Details
Mantel/Coat – similare here
Dress by Shein – similare here, here (in black), here (in black)
Other inspirations: here, here
Schuhe/Shoes (meistens ausverkauft/mostly sold out) – similare here, here (in red)
Tasche/Bag by Anya Hindmarch – similare here, here