Glitter, Glamour, Glow – getreu dem Motto "You have to glow before you shine" haben sich am Samstag Beauty-Begeisterte aus ganz Deutschland in Hannover auf der Glowcon versammelt um die neusten Beauty-Trends zu entdecken und ihren Stars mal ganz nah zu sein.
Glitter, Glamour, Glow – true to the motto "You have to glow before you shine" beauty-junkies from whole over germany met on saturday in Hannover at the Glowcon to discover the newest beauty-trends and to be within someones stars reach.
//
Wie stellt ihr euch eigentlich so eine Beauty Convention vor?
Die meisten von euch werden wohl ein realitätsnahes Bild vor Augen haben, aber ich kläre euch mal zumindest bezüglich der Glowcon trotzdem auf: Alles pink, ein riesen Haufen Mädchen (mit unter aber auch Jungs) und jede Menge Make Up-Stände.
How do you imagine such a beauty convention?
Most of you should have a close to reality picture before his eyes, but I'll clarify you at least about the glowcon: Everything's pink, a huge amount of girls (occasionally boys) and a lot of make up-stands.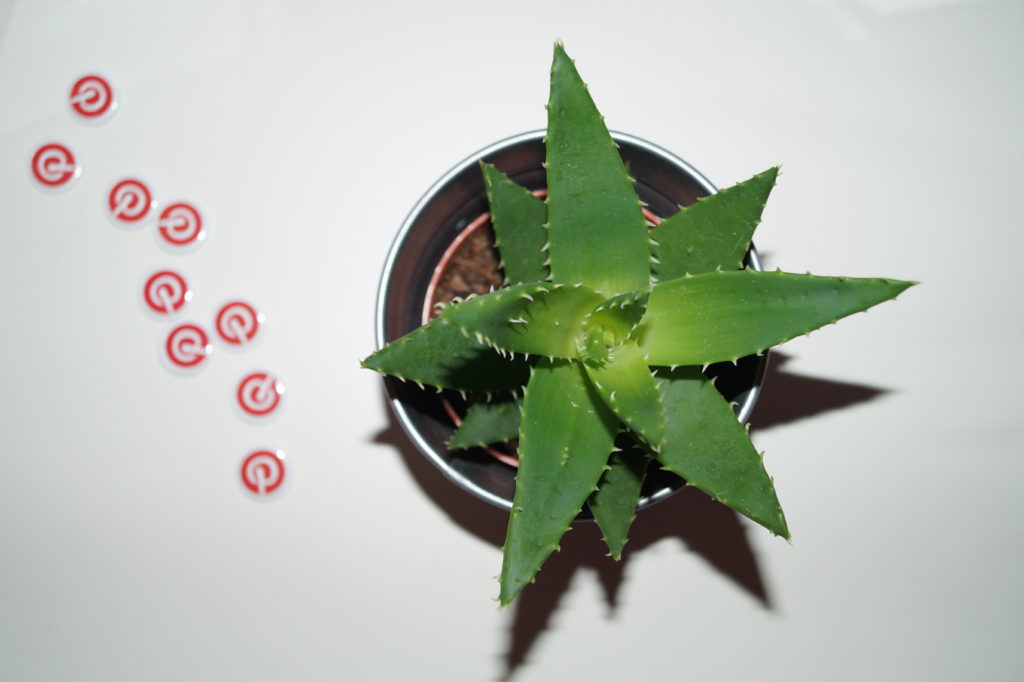 Kaum betritt man die große Halle, erwarten einen zigtausend Stände, die jedes Frauenherz höher schlagen lassen. BH Cosmetics, Lancôme, Chupa Chups… Und jede Menge Goodies.
Wer sich neben all dem Make Up und der Musik mal erholen wollte, konnte sich einfach zu den Food-Ständen begeben – natürlich gabs auch Veganes. 😉
Auf der Messe gab es neben all den Besuchern und Talents auch Glow Artists und Glow Pros. Also YouTuber, Blogger und sonstige Influencer, die man auf der Glowcon treffen konnte. Dafür wurde exklusiv für uns eine Glow Pro Lounge aufgebaut – mit (unglaublich!) leckeren Muffins, Getränken und tollen, teilweise sehr inspirierenden Gesprächen. Das ganze wurde von Pinterest gesponsert – Danke dafür! 🙂
Such as you enter the big hall, zillions of stands expect you, which let every woman heart beat faster. BH Cosmetics, Lancôme, Chupa Chups… and a lot of goodies.
Who wanted to recover next to all of the make up and the music, could go to the food-stands – naturally there was vegan food, too. 😉
At the fair were next to all the visitors and talents, Glow Artists and Glow Pros, too. YouTuber, Blogger and other influencers you could met at the glow. Therefore they just build a Glow Pro Lounge for us – with (incredible!) good muffins, drinks and amazing, partly really inspiring talks. The whole thing was sponsored by Pinterest – thanks for that! 🙂
//
Die Glowcon war einfach großzügig: Jeder hatte die Chance, eine Menge zu gewinnen. Man konnte sich frisieren lassen, ein professionelles Make Up bekommen, und es gab Glücksräder. Apropos Glücksrad – davon wollte ich euch ja noch erzählen.
Flaconi und Laverna lockten wohl die meisten Besucher an – einfach, weil jeder etwas gewinnen konnte. Und wie ihr mich kennt, bin ich nun mal meist kein Glückspilz – und habe neben "Überraschung", "Goodie Bag" und "10€ Gutschein" das Feld "Game Over" gelost. Und dafür hab ich 2 Stunden angestanden (Ja, 2 Stunden 🙁 ). Aber jetzt kommt der Clou: "Game Over" bestand aus einer Laptoptasche von Yyes Saint Laurent – der wohl beste Preis neben den anderen Feldern. Dazu hab ich auch noch einen Lancôme Kajal und Body Lotion bekommen. Das Feld "Überraschung" hingegen hat nur eine Bodylotion oder einen Kajal verschenkt.
Hier kommt meine Pointe: Nicht alles was gold ist glänzt, und man sollte sich oftmals mit dem scheinbar schlechtesten zufrieden geben, denn nur weil es scheinbar schlecht ist, muss es das noch lange nicht sein. Sei einfach zufrieden, dass du überhaupt etwas gewinnst! 🙂
The Glowcon was generous: Everyone had the chance to win a lot. You could get your hair done, get a professionel make up and there were wheels of fortune. Apropos wheel of fortune – that's what I wanted to tell you about.
Flaconi and Laverna event attracted the most visitors – easily, because everyone could win something. And how you know me, I'm mostly not a happy bunny – and next to "Surprise", "Goodie Bag" and "10€ Coupon" I get the field "Game Over". And therefor I stand 2 hours in line. (Yes, 2 hours 🙁 ). But now here's the clou: "Game Over" insists of a laptop bag by Yves Saint Laurent – even the best price next to the other fields. I get a Lancôme kajal and a body lotion as well. However, the field "Surprise" just gave away a body lotion or a kajal.
So here's my punchline: All is not gold that glitters, and mostly you should be happy with the apparently bad. Just because it's apparently bad doesn't mean it IS bad. Just be happy that you win anyway! 🙂
//
Wart ihr auch dort und wie fandet ihr es eigentlich? Die nächste Glowcon ist übrigens im Dezember in Berlin! Sehen wir uns dort? 🙂
In diesem Sinne wünsche ich euch noch eine wundervolle Woche und LET'S G(L)O(W)! <3
Do you were there, too and how does that grab you? Apropos, the next Glowcon is in december in Berlin! Do we see us there? 🙂
Along these lines I wish all of you an amazing week and LET'S G(L)O(W)! <3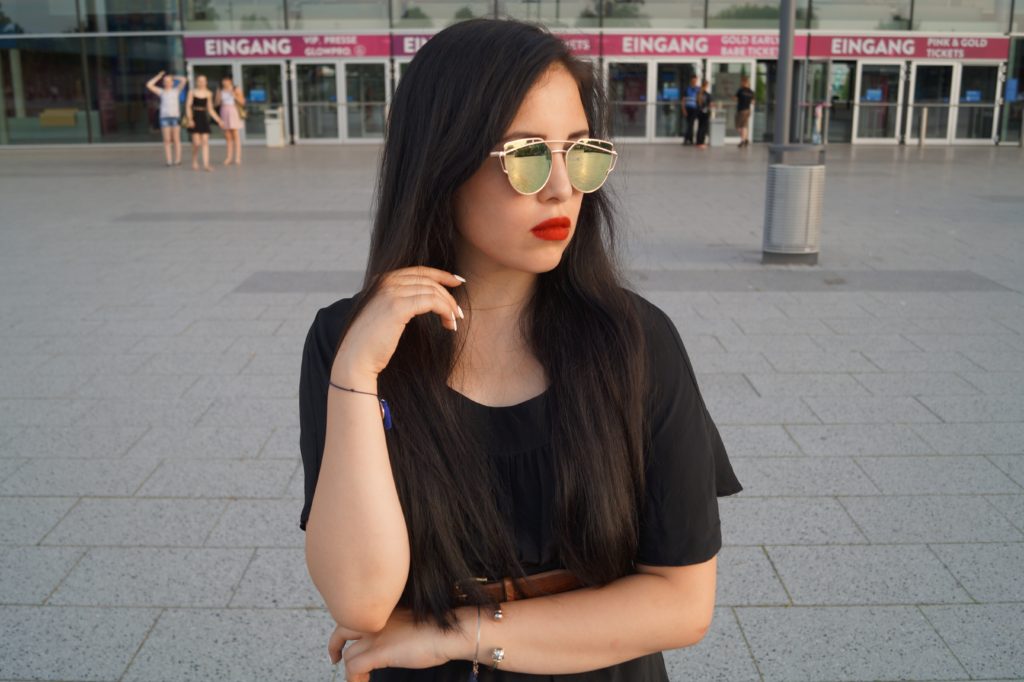 Outfit Details



Kleid/Dress: Warehouse (similar here)
Gürtel: BOSS Hugo Boss (similar here)
Shoes: H&M (in black, in silver)
Make Up/Beauty

Lips: Mary Jo K – Kylie Lipkits | Kyliecosmetics by Kylie Jenner
Nails: White with gold applications (read here about Gelnails) | Feet: Sand Style Gold "100 precious" by P2
Accessoires
Bracelet: Na-kd
Bracelet: selfmade by the P. cookery
Sunnies: via Ebay